Archive for the 'Online News' Category
Pokerfornia.com is currently the best SEO (Search Engine Optimized) website dedicated to poker in California. Although the site is sill young, it is rapidly imposing itself as the authority site for poker players in CA. It currently ranks first for "California Poker" in the Google Search Engine.
In just a year, Pokerfornia has managed to rank highly for these very trafficked key terms:
The website ranks on  page 1 for more California poker terms than this page can contain, but here is a representative sample: Poker in California; California poker;  Bay Area Poker; Commerce Poker; Bay 101 Poker; Bicycle casino poker room; Morongo Poker; Bay Area Poker Tournaments; commerce poker tournaments; Sacramento Poker; California poker room reviews; Northern California poker
Traffic Volume and Demographics
Pokerfornia currently receives 4k unique visitors a month, as observed using the Google Analytics Tool. With new content being added aggressively, this number is expected to multiply in the coming months. The total number of page views varies, resides in the 10K range per month.
A Demographic Narrowly Focused on California
Our focus is the US market, and as such, 92.88% of our traffic comes from within the USA, predominantly from California. Here is the breakdown of our traffic on a per state basis across a sample size of 6,000 visits.  California provides ten times more visitors to Pokerfornia then the second source of traffic which is New York.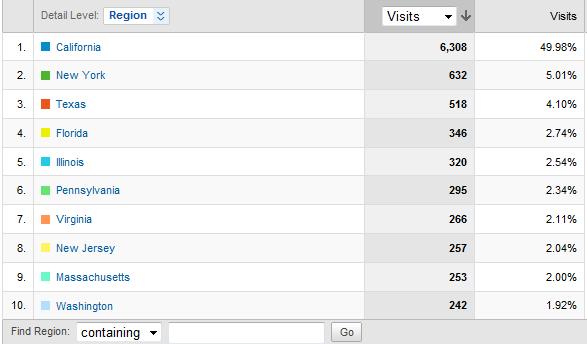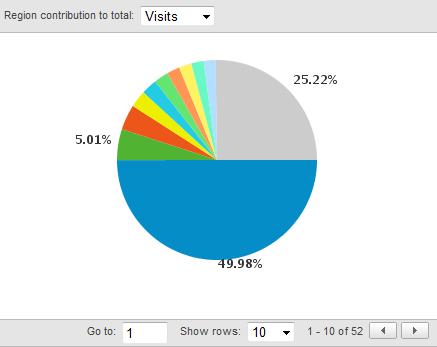 Ad Placements
Ad placements can be negotiated to appear on the Pokerfornia header or on the left sidebar.
Interested ?
Please formalize your interest by adding a comment in the box underneath. Comments will not be displayed publicly and are only accessible by the website owners. We will then contact you to work out the best advertising package for you.

Regards,

Pokerfornia.com webmaster team
Morongo Casino Resort & Spa sits just west of the Palm Springs area in the base of the picturesque San Gorgonio and San Jacinto Mountains. (more…)
This article is from Pokerfornia, the leading source of California poker casinos review. 

The Biggest Heads-Up Poker Tournament Ever
 Yes, you've read this right- a 25 thousand dollar entree fee for a poker tournament. This will be the biggest heads up tournament ever held and it will take place… online.  This tournament is taking place in 3 days and there are 64 entrants so far (with a maximum of 128) .
You can find the current payout structure on your left. Almost 600 thousand dollars for first prize ! Keep in mind that these numbers may increase as more players join in the next couple of days. The prize pool may eclipse the 2 million dollar mark.
The line-up of players is incredible and includes some of the best live poker players.
The 25K Heads-Up World Championship will be hosted by 2008 National Heads-Up Poker Champion Chris Ferguson.
We recommend that you Log on to Full Tilt Poker starting at 15:00 ET on Saturday, May 24th to wtach the action unfold.
Copyright © 2010 Pokerfornia.com